Travel
I. Part. Amazing Restaurant Scorpio in Crete
Scorpio Restaurant and Hotels

Scorpio and private beach
USPA NEWS - Restaurant Scorpio was opened this year 2018 Its main objective is in all directions and 100% satisfy the guest with any desire. The restaurant focuses on mediterranean cuisine with a large emphasis on the freshness of the submitted materials with the use of seasonal foods and products. At the same time, however, uses a certain simplicity and sophistication in adaptations of dishes, which highlights and highlights their unique taste.
Scorpio is not just a restaurant. At least in the ordinary sense of the word, his fame being built on the professionalism of the Chef to serve the dish, you will have an incredible consistency, will be unconventionally look , will and the barrel will taste great. The largest house specialties include, for example,...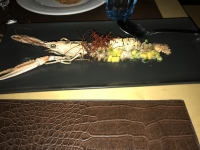 When coming to this restaurant stops you beautiful hostesses that will bring the opulent interior of the restaurant where you will find a friendly and professional service. You can get carried away by the spectacular views of the beach , which belongs to the restaurant and bar. In Tropical days you choose a luxury cocktail. The biggest surprise for me was. From in such a beautiful environment are very but very reasonable prices that can afford to pay. This restaurant is associated with several hotels which is the same owner. About it will write in the next episode. The manager is very kind person with a professional approach to their work. It is understood that, its the people doing very well and professionally. If we rate this restaurant ***** stars.!!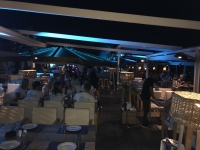 This restaurant is connected to several hotels that have the same owner. I had the pleasure to look into those of the hotel and in the hotel rooms, everything is at a high level and I would like you all wrote the second part. With quite sure you will be very surprise what a huge service this company provides as gastronomy so hotels sphere. The owner may be very pleased with how professionally run by managers this business
Liability for this article lies with the author, who also holds the copyright. Editorial content from USPA may be quoted on other websites as long as the quote comprises no more than 5% of the entire text, is marked as such and the source is named (via hyperlink).
| | |
| --- | --- |
| | Daren Frankish |
| | RAHMA-SOPHIA RACHDI |
| | Ruby BIRD |
| | Yasmina BEDDOU |
| | Roberto Magni |