Search results for: "President Macron"
OVERSEAS TERRITORIES FOR 5.0 PLAN
Responsible Author: Jedi Foster P/O Rahma Sophia Rachdi | Paris, Washington DC, 07/08/2019, 23:19 Time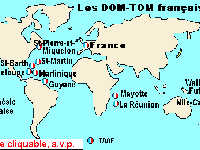 USPA NEWS -
The French President Macron has signed by himself together with his Prime Minister, Edouard Philippe, sign the contracts that strengthens the ties with DOM Tom (French Territories and overseas Islands) . It is is considered a string political gesture, as far as the Overseas' French people, for this contract to be signed up within the frame of the Real Equality for the Overseas French People against the French citizen located in the «  Hexagone «  also so called « Metropole », in the continent, thousands miles away form these territories. The territoires, which represent French West dies, located in the Caribbean Seas, (Guadeloupe, St Martin, St Barths, Martinique, and Guyana), the Reunion Island (Next to Madagascar), in the Indian Ocean, the Pacific Islands, and New Caledonia, in the Pacific Ocean. The State signed the contracts, so far, with the communities of Guadeloupe, Guyana, Martinique, Mayotte, Reunion, Saint-Pierre-and-Miquelon and Wallis and Futuna. Yet other contracts with other territories will be signed later. President Macron was reassuring about the geopolitical advantages and strategic asset of (DOMTOM) overseas territories.
AT SUMMIT OF THE TWO SHORES
Responsible Author: Jedi Foster P/O Rahma Sophia Rachdi | Paris, Washington DC, 06/26/2019, 03:38 Time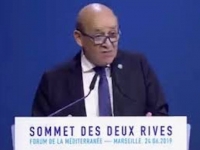 USPA NEWS -
The Summit of the two banks (Shores of Mediterranean Sea), is the result of an initiative of the President of the Republic Emmanuel Macron, the Summit of both shores, Mediterranean Forum, is held in Marseille on June 23 and 24, 2019. At the end of an unprecedented exercise of consultation of the Mediterranean civil society, its ambition is to relaunch the momentum of cooperation in the Western Mediterranean through the implementation of concrete projects for human, economic and sustainable development in the region. At this occasion the French Minister fo Foreign Affairs, Jean Yves Le Drian is addressing the guests and his counterparts addresses a speech marking the ponies of this two days summit. We are publishing the full text keynote of the Minister's Opening Speech, Jean Yves Le Drian, and Marseille Commitments, at the Summit of The Two Shores 2019 »
| | |
| --- | --- |
| | RAHMA-SOPHIA RACHDI |
| | Daren Frankish |
| | Ruby BIRD |
| | Yasmina BEDDOU |
| | Roberto Magni |