Search results for: "President Macron"
HE CALLS UP THE NATION FOR VIGILANCE
Responsible Author: Jedi Foster P/O Rahma Sophia Rachdi | Paris, Washington DC, 10/09/2019, 02:00 Time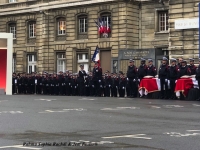 USPA NEWS -
The Prefecture of Police of Paris is closed to the public today for reasons and sermon national hommage to the police victims of the attack Islamist by the assailant Michael Harpon last October 3rd. The latter also member of French intelligence, employee of the prefecture of Police of Paris for 16 years, had attacked his colleagues with a knife 20 cm of ceramic blade and kills four policemen, before being about him woman by a police officer to the gunner. The prefect Lallemant had organized a tribute of the corporation of the police, while waiting for the national tribute carried out by the President of the Republic Emanuel Macron, today, in the courtyard of the prefecture of Police. The serene took place in two sequences, firstly, the presentation of the knight's insignia of the legion of honor to the four victims posthumously, by the Interior Minister Christophe Castaner, after a solemn greeting to the guts of police and firefighters, under the national anthem. The constant rain during the two hours added a heavy touch in this sad atmosphere on one side of the coast of the family members and friends of the victims.
AND ANNOUNCE PLEDGE OF $ 100M AID
Responsible Author: Jedi Foster P/O Rahma Sophia Rachdi | Paris, Washngton DC, New York, 09/26/2019, 03:03 Time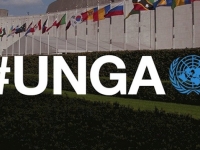 USPA NEWS -
Amongst these leaders, Emir of Qatar, Sheikh Tamim bin Hamad Al Thani, who headed the State of Qatar's delegation, addressed the other global leaders, inviting them to reboot the Paris Agreement of 2015, against global warming and towards decarbonization.This year, in the face of worsening climate crisis, UN Summit delivers pathways and practical actions to shift global repossess into higher gear. Leaders from government, business, and civil society today announced potentially far-reaching steps to confront climate change at the United Nations Secretary-General's Climate Action Summit in New York.
Together with French President Emmanuel Macron and Prime Minister of the Republic of Jamaica Andrew Holness, Sheikh Tamim participated in the Climate Finance and Carbon Pricing coalition, and made a major announcement, of financial aid to developing nations to combat climate change for mitigation and align private and public finance with Paris Agreement Goals.
The Climate Action Summit 2019 convened by UN Secretary General Antonio Guterres focused on mobilizing political and economic energy at the highest levels to improve climate action that will help in the achievement of the 2030
| | |
| --- | --- |
| | Daren Frankish |
| | RAHMA-SOPHIA RACHDI |
| | Ruby BIRD |
| | Yasmina BEDDOU |
| | Ricardo Dominguez |