Search results for: "Tribute"
FOLLOWING THE FAILURES OF THE PREFECTURE
Responsible Author: Jedi Foster P/O Rahma Sophia Rachdi | Paris, Washington DC, 10/10/2019, 01:07 Time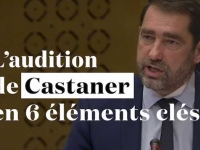 USPA NEWS -
French Interior Minister , Christophe Castaner was auditioned at 5:30 pm and ended at 7:40 pm by the commission of laws of the National Assembly. the objective of this hearing is to clarify for public opinion, the parliamentary voice, the conditions that allowed such an attack to occur, the profile of the assailant, the issue of the detection of individuals to risks, and measures taken by the government since the attack of the police headquarters. The principle of separation of powers prohibits the commission from dealing with the fields of investigation conducted by the prosecutor's office. In addition, several aspects of national defense can not be addressed, knowing that the antiterrorist prosecutor has already started an investigation into the attack of the prefecture considered "terrorist" or "Islamist" according to the profile allegedly "radicalized". The same afternoon, during the session of the Government at the National Assembly, PM Edouard Philippe defended the Minister of the Interior Castaner, insisting on the fact that he "assumes his position" and declared in hemicycle: "We all have an interest, France has an interest in the truth of facts being known and assumed."
HE CALLS UP THE NATION FOR VIGILANCE
Responsible Author: Jedi Foster P/O Rahma Sophia Rachdi | Paris, Washington DC, 10/09/2019, 02:00 Time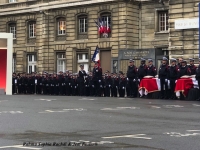 USPA NEWS -
The Prefecture of Police of Paris is closed to the public today for reasons and sermon national hommage to the police victims of the attack Islamist by the assailant Michael Harpon last October 3rd. The latter also member of French intelligence, employee of the prefecture of Police of Paris for 16 years, had attacked his colleagues with a knife 20 cm of ceramic blade and kills four policemen, before being about him woman by a police officer to the gunner. The prefect Lallemant had organized a tribute of the corporation of the police, while waiting for the national tribute carried out by the President of the Republic Emanuel Macron, today, in the courtyard of the prefecture of Police. The serene took place in two sequences, firstly, the presentation of the knight's insignia of the legion of honor to the four victims posthumously, by the Interior Minister Christophe Castaner, after a solemn greeting to the guts of police and firefighters, under the national anthem. The constant rain during the two hours added a heavy touch in this sad atmosphere on one side of the coast of the family members and friends of the victims.
| | |
| --- | --- |
| | Daren Frankish |
| | RAHMA-SOPHIA RACHDI |
| | Ruby BIRD |
| | Yasmina BEDDOU |
| | Ricardo Dominguez |